Ambulatory/Field Services
Here at OCEC we pride ourselves in providing you and your horse with the best care. We work with you to make it convenient for you and your horses. Sometimes this type of care requires the veterinarian to come to your horse instead of bring the horse to the clinic.
For these scenarios we maintain Ambulatory vehicles equipped with mobile equipment to provide: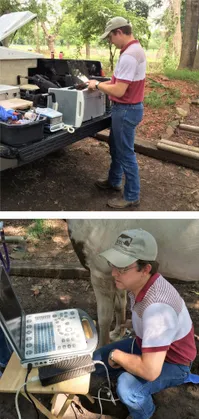 Routine preventative maintenance procedures
• Vaccinations
• Deworming
• Coggins
• Health certificates
• Maintenance dental care
Investigation of health concerns
• Lameness
• Illness
• Reproductive issues
• Ophthalmic injuries
24 hour emergency care
• Colics
• Lacerations
• Illness
Diagnostically we have the ability to perform
• Digital radiographic examinations
• Digital ultrasonographic examinations
Our veterinarians will evaluate your horse and administer the appropriate treatments.
Some procedures and complex conditions cannot receive optimal care in the field. Our veterinarians and staff will assist you in determining when your horse's best interests are served by more intensive care and treatment in the hospital.