At OCEC we are equipped to handle many different surgical procedures. We offer elective and emergency surgical services.
Our procedures include but are not limited to;
- Orthopedic (wounds, fractures, arthroscopy)
- Gastrointestinal (colic)
- Reproductive (rectovaginal repairs, cervical repairs, ovariectomy)
- Air way surgery (tieback)
We are open 24 hours for any emergency service required. Please call us right away if you suspect your horse may be a candidate for an emergency surgical procedure.
Our surgical suite consists of a padded induction/recovery suite, a hydraulic lift table, gas anesthesia, blood pressure monitoring, EKG and a variety of other essential medical and surgical equipment
Our surgeon, Dr. Finley, is board-certified in Large Animal Surgery
What to Expect
When you drop your horse off for any surgical procedures, you and your horse will be greeted by one of our staff members that will direct you to your horse's prepared stall. We will then gather information about your horse's routine schedule including what your feeding program entails. The doctor will also ask similar questions to gather a detailed history of your horse. Your horse will undergo an examination and diagnostics if deemed necessary by the veterinarian and a plan with an estimate of associated costs will be discussed.
On the day of surgery, your horse will have pre-op blood work done to ensure they are healthy enough to be put through an elective surgical procedure. Your horse will be induced and transferred to our surgical suite. The patient is closely monitored by one of our anesthetists. As the procedure ends, the horse will be taken off gas anesthesia and transferred back into the induction/recovery suite. Each one of our patients is hand-recovered in this padded room.
Post-surgery, each individual case will have a set of protocols assigned to them to ensure the best post-op recovery possible.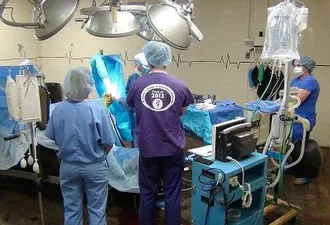 ---
Helpful Articles
1. Colic - Minimizing its Incidence and Impact in Your Horse