Diagnostic Tools & Equipment:
---
Digital Radiography
Digital Radiography allows for immediate viewing of the image which facilitates on-site reading of the radiographic study. Our digital images can be sent digitally to our clients, farriers, or other veterinarians for consultations. This valuable, timesaving technology results in a significantly higher quality of patient care.
---
Ultrasonography
Ultrasound is also available to our clients to improve diagnostic capabilities for lameness, medicine, and reproduction. We offer reproductive ultrasonography as well as diagnostic ultrasonography. Ultrasound is a crucial diagnostic tool for the diagnosis of soft tissue lesions.
---
Endoscopy/Gastroscopy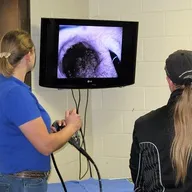 Endoscopy and Gastroscopy allow our doctors to better diagnose patients for an array respiratory diseases as well as upper gastrointestinal problems including equine gastric ulcer syndrome.
---
Full Service in-house diagnostics laboratory
OCEC has a full service in-house laboratory which allows us to run crucial lab tests immediately to expedite diagnosis and treatment options insuring the best care for your horse. We also utilize outside laboratories for specialized testing.