These exams are a great way to determine future suitability for mating, ensure the mare is ready for breeding season, aid our veterinarians in diagnosing reproduction issues and monitor reproductive health during a pregnancy. Depending on the history and needs of the client, these exams include: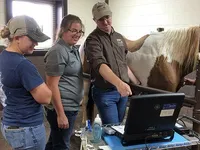 The exam consists of
1. A detailed breeding history
2. General physical examination
3. A comprehensive reproductive tract exam
• Vaginal/cervical speculum and manual palpation exam
• Rectal palpation of the ovaries, uterus, and cervix
• Ultrasound of the ovaries, uterus, and cervix
4. Uterine culture
5. Uterine Biopsy
6. Hormonal Assays ***
7. Endoscopic Exam ***
*** Hormonal assays and an endoscopic exam of the uterus may be included if indicated by the history and other exam findings.