At OCEC, our skilled and experienced doctors are dedicated to meeting all our clients' reproductive needs and achieving the end goal of a healthy foal. Dr. Carroll and Dr. Gragg both have over 30 years of experience and are well versed in simple as well as complex reproductive procedures and management.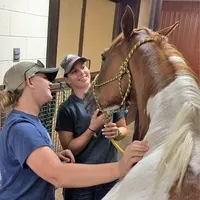 Our main management options include the following:
1. Year-Round or seasonal mare management
2. Cooled and Frozen semen mare management
3. Sub-fertile mare management
4. Embryo Vitrification (Freezing & Storage)
5. Embryo Transfers ***
• Synchronize your recipient & donor
• Flush your donor mare
• Transfer your flushed embryo
• Ship your flushed embryo to the facility of your choosing
***If you do not own your own recipient mare, but would still like to transfer your embryo to another mare, please contact our sister company, Embryo Transfer Services.